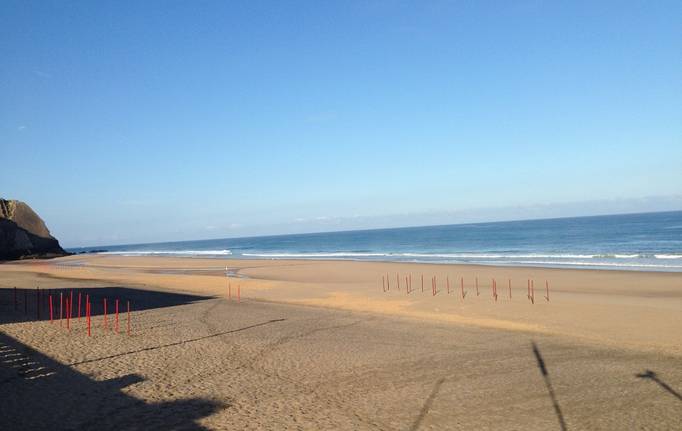 Beaches & Golf
Beaches
Just 10 to 15 minutes drive from Quinta Sao Bento are wonderful sandy beaches. There is a beach to suit every taste, from secluded coves, ideal for swimming and fishing, wide stretches of sandy beach for surfers and cliffs which are perfect for paragliding.
Praia Grande (photo above) is for surfers and home to international surfing and body boarding tournaments every year. Mixed groups will find this a good option as the smaller, less crowded Praia Pequena next door is the perfect spot for some more peaceful bathing and beach fun. There is a host of restaurants at Praia Grande, some of which face the seafront.
Adraga beach is close by and reached via a winding road that weaves its way down the steep mountain side to a gap below where the cliffs part, leaving a perfect sheltered triangle of pristine sand and turquoise waters. Whilst Adraga beach offers all the charm of a secluded wilderness, it also benefits from a restaurant, which serves snacks, ice creams and ice-cold beers throughout the summer months.
Praia das Maçãs is further on, known for its broad stretch of golden sand flanked by a cliff and a good selection of bars and restaurants.
Golf
There are several good golf courses in the area within a 15 to 30 minute drive of Quinta Sao Bento including:
Penha Longa, Sintra www.penhalonga.com. A quality course with spectacular scenery. 18 hole par 72 championship course, 6228 metres; 9 hole, par 35, 2550 metres.
Estoril Golf course, Estoril www.estorilgolf.com. One of the most traditional and classic clubs in Portugal, host to the Portuguese Open. 18 hole, par 69, 5238 metres 9 hole, par 34, 2350 metres.
Quinta da Marinha, Cascais www.quintadamarinha.com. Beautiful location overlooking the Atlantic Ocean. 5 par 5's, 6 par 3's 18 holes par 71, 6014 metres
Quinta da Beloura, Sintra www.quintadabeloura.pt. Designed by William Roquemore Jr. with six lakes on the course. 18 holes par 73, 5817 metre.